Why Is Design Thinking So Helpful In Employee Experience Design?
Published on 16th of December 2021
Employee experience design is grounded in design thinking and borrows much of its methodology from the field. Hence, it's crucial to understand design thinking and how its methodology can be used to design and transform employee experiences.
A Human-Centric Approach To Problem Solving
According to Clark (2020) and KPMG (2021), "design thinking" is a human-centric, structured, and creative approach to problem-solving defined by a few basic characteristics:
A Focus on Problem Solving - It involves adopting a designer's mindset, being optimistic, and looking at opportunities rather than problems.
A Holistic Practice - Design thinking seeks to understand a person's needs, emotions, and motivations, as well as factors driving their behavior.
A Human Design Approach - As with human design, design thinking always starts with people and their needs.
Based on Empathy - In practice, empathizing involves stopping to listen and understand, ultimately establishing a culture of trust and openness.
A Collaborative Approach - Design thinking involves working together to research problems and co-create solutions.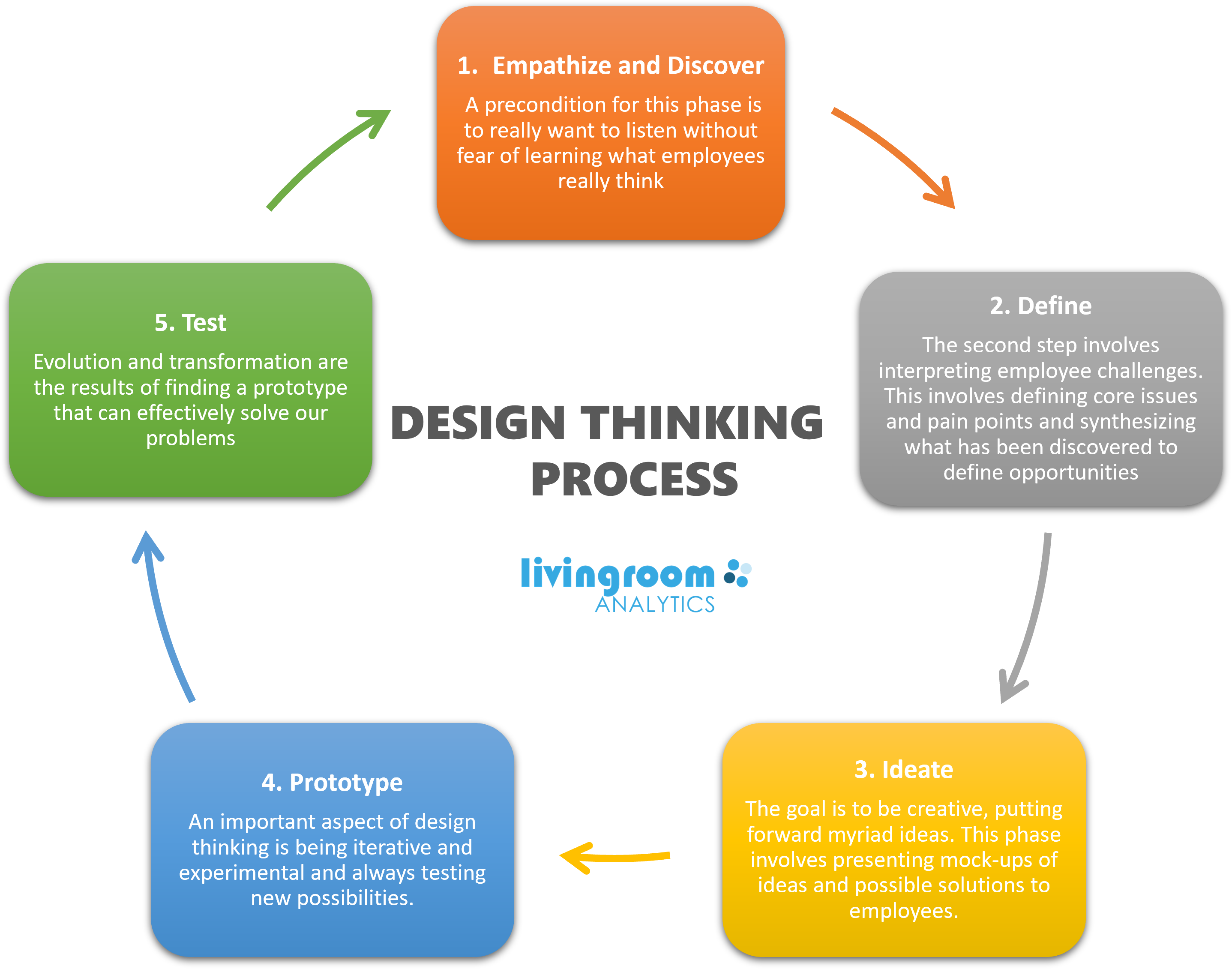 "Design thinking is really helpful because it allows us to use divergent thinking instead of conscious thinking and sort of just using linear thinking… With design thinking, we think about what could happen or what could work, what we could do differently and really think out of the box."
What Are The Steps In The Design Thinking Process?
Using design thinking for problem-solving involves following a structured process defined by a number of steps or phases. The design thinking process is a non-linear iterative process, and it's often necessary to return to an earlier phase.
Empathize and Discover - The first step involves empathizing with people and learning about their challenges. A precondition for this phase is to really want to listen without fear of learning what employees really think.
Define - The second step involves interpreting employee challenges. This involves defining core issues and pain points and synthesizing what has been discovered to define opportunities. This requires identifying common patterns and ensuring we are solving the correct problem.
Ideate - Upon identifying challenges, the ideation phase begins. When asking how a journey might be improved, it's important to not get stuck on one idea. The goal is to be creative, putting forward myriad ideas. This phase involves presenting mockups of ideas and possible solutions to employees.
Prototype - The fourth phase involves developing several prototypes of potential solutions. An important aspect of design thinking is being iterative and experimental and always testing new possibilities
Test - Finally, we test our prototypes, which might lead us to revise those prototypes before testing again. Evolution and transformation are the results of finding a prototype that can effectively solve our problems.
Future Steps
The Design Thinking Process will prove helpful on your journey of improving employee experience. However, designing and transforming employee experience in organizations, is like design thinking, a non-linear process, which takes dedication and long term effort. Future steps may include looking into strategic considerations before designing the employee experience.
Read the whole story about Employee Experience in our Whitepaper. Sign up for our free Whitepaper here.
Want to read more articles like this? Join the Livingroom Newsletter
ABOUT LIVINGROOM ANALYTICS
Livingroom is the new, groundbreaking platform for measuring and improving employee experience. Every company faces the challenge of building a workplace where people feel engaged and perform well. Livingroom helps managers identify people challenges as well as deliver the right tailored actions for improvement.