How Airbnb Became The World's Best Place To Work
Keeping people productive, motivated and engaged has always been a central challenge for organizational leadership. According to a recent report from SilkRoad that surveyed 728 HR professionals, engaging employees (46%) is one of the top anxieties of HR managers. While HR departments have become more professional over the years, possessing more methods, tools, software and data than ever, they continue to battle with the basic tasks of onboarding, engaging and motivating employees. At the heart of the challenge is not the development of more sophisticated tools, but the need to create a culture where people naturally grow and thrive.
An increasing number of companies have begun to question the effects and benefits of pushing measurement and key performance indicators. Companies like Accenture, Microsoft and Deloitte have taken steps to transform their performance management systems to take a more human-friendly approach. Accordingly, the Danish energy company Dong Energy is working to soften its performance culture. In a recent interview, HR director Hanne Blume underlined that a KPI-managed performance culture cannot be the only focus, as this leads to frustration and stress and does not yield the intended results: "We will increase work thriving and pleasure, making sure that employees and leaders feel secure in our performance culture" (Børsen, October 20, 2016). While many companies will continue to use performance goals, Danish survey results from Analyse Danmark/AS3 indicate that a stronger emphasis will be placed on well-being and motivation.
The Airbnb Way
What are the alternatives to a one-sided performance focus? Are there any success stories? If we are looking for alternative models, there is no better place to look than Airbnb. Airbnb is an online marketplace where people can list and book accommodations; it functions as a broker between travelers and hosts. In Glassdoor's well-regarded ranking of the best workplaces in 2016, based on anonymous employee reviews, Airbnb was rated #1. Of the Airbnb employees surveyed, 90% stated that they would recommend the company to others. Last year, the company received 180,000 CVs for 900 open positions. Airbnb is, however, also known for some controversies about its business model. While ratings and rankings are up for discussion, the workplace and culture at Airbnb undeniably signal the future trend and provide instruction for companies and HR managers.
Airbnb has an exceptional story. The idea was born in 2008, when founders and roommates Brian Chesky and Joe Gebbia graduated from the Rhode Island School of Design. To make ends meet, they decided to house attendees of a local industrial design conference. They advertised floor space through their webpage airbedandbreakfast.com, and the first week they had three visitors sleeping on air mattresses in their apartment. Since its very small-scale start, the company has grown rapidly and is now valued $25.5 billion, with 19 offices around the world. Airbnb operates in 191 countries and has more than 2 million listings. Over its history, more than 80 million people worldwide have visited an Airbnb host.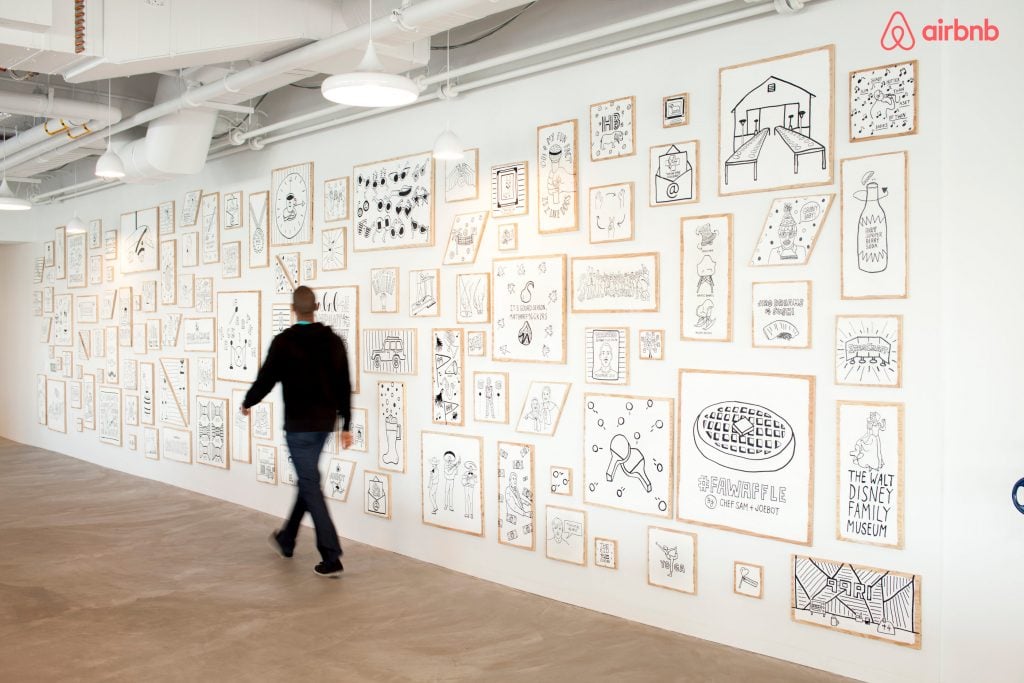 What are the drivers behind Airbnb's tremendous success? Without a doubt, the company has benefited externally from riding global trends like the rise of millennials and the sharing economy. As start-up specialist Tomio Geron correctly states in his Forbes article, "Airbnb had great timing and fast-moving founders but benefited equally from a sea change over the past five years in consumer attitudes about ownership, a shift that could prove to be the longest-lasting legacy of the Great Recession." The story of Airbnb, however, is about more than being at the right spot at the right time or catching a wave. Airbnb's momentum is the result of a cleverly thought-out mission and strategy, of which the employees and the workplace are the starting point. Airbnb has succeeded in developing a culture of belonging where people naturally thrive, grow and produce. Breaking down the culture, we can identify three key elements or building blocks that have contributed to making Airbnb among the very best workplaces in the world.
1. Fostering A Welcoming Culture (#includedemployees)
Making people feel welcome lies at the heart of the Airbnb culture. In a welcoming culture, people feel included and valued, they have a clear sense of belonging, and are eager to embrace others. A 2016 job satisfaction and engagement survey from the Society for Human Resource Management found that employees want to feel valued and included and that respectful treatment of all employees is the #1 contributor to overall employee job satisfaction. When I visit companies, they often trumpet their inclusion and diversity programs. The real test, however, is the extent to which these initiatives have materialized in terms of the everyday behaviors of embracing others across race, sex, age, profession and position in the hierarchy.
For Airbnb, building a welcoming and inclusive culture is not something that is isolated to a single project or program. Facilitating belonging is part of the entire employee journey, incorporated in everything from recruiting and onboarding to citizenship, physical facilities and food. Recently, the entire HR function at Airbnb was redefined to focus on this goal. With Mark Levy appointed as Global Head of Employee Experience, the HR unit was transformed into a hub for the company's vision of the 'workplace as an experience.' As Mark Levy told Jeanne Meister from Future Workplace in Forbes.
«At Airbnb we are focused on bringing to life our mission of creating a world where you can belong anywhere, by creating memorable workplace experiences which span all aspects of how we relate to employees, including how we recruit them, develop them, the work environment we create with them, the type of volunteer experiences we offer them, and the food we share together. While these may sound like common sense, they are not. For example, our Airbnb space has moved from an open space floor plan to a 'belong anywhere working environment,' where an employee can work from any number of workspaces, including what we call the kitchen counter, the dining room table, or the living room. This allows employees to either work alone or congregate with the folks they are working with to create a sense of belonging, rather than working from a closed-in cube, office, or dedicated desk.»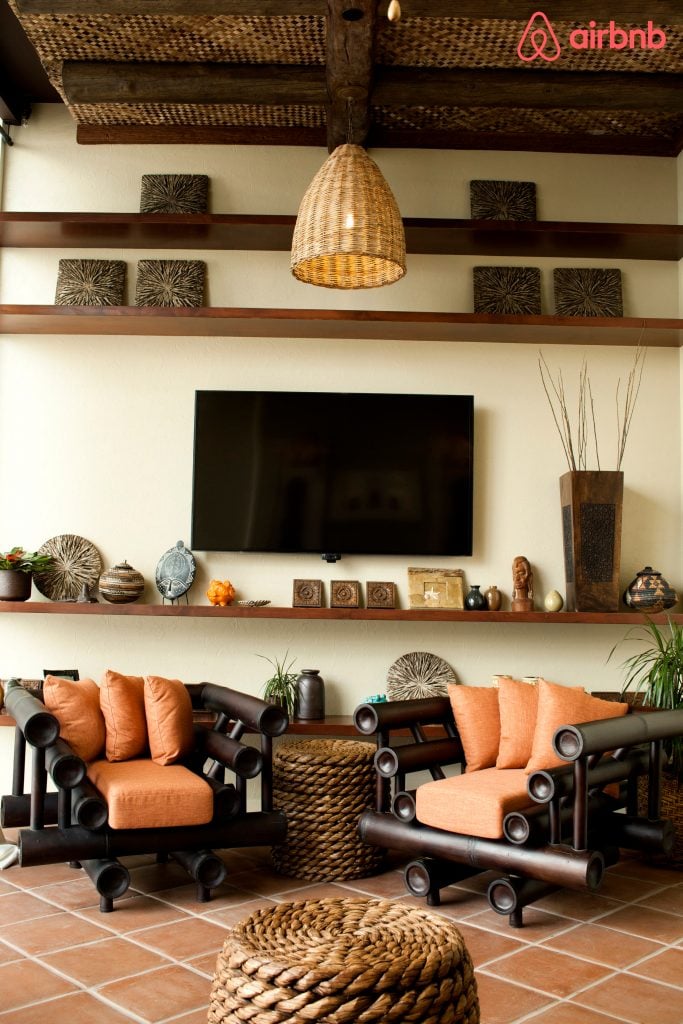 If you take a tour of Airbnb's San Francisco headquarters at 888 Brannan Street, you will notice that the working facilities radiate the feelings of welcoming, thriving and being at home. The Airbnb facilities were purposely designed to inspire community and belonging. After checking in at the 'landing zone', a place for recharging laptops and hanging stuff, employees can team up with colleagues and work from anywhere in the building. In an informative article, media innovator and communications specialist Bronwen Clune vividly describes the Airbnb facilities:
«When you walk into the Airbnb office in SOMA, San Francisco, you could be entering a trendy inner-city apartment building almost any place in the world, which deliberately aligns with the company's mission: to create a world where you can belong anywhere. Looking out across the atrium-like foyer from inside the HQ, you peer into a kaleidoscope of colorful rooms that have been painstakingly built to resemble some of the more interesting Airbnb homes from around the world, including the founder's apartment where the company started, all marked proudly with a plaque telling the story of the actual host and home.»
Airbnb also uses the company intranet to promote a welcoming culture. Employees are informed about employee birthdays and anniversaries through the intranet. Moreover, every employee can access his or her own webpage, which is meant to facilitate internal networking. The company makes an effort to bring people together across geographies, whether online or through face-to-face meetings. Recently, an all-company conference called OneAirbnb was held in San Francisco, bringing all employees together for four days. While this required a huge effort, Airbnb seems to believe that if employees are well taken care of, they will in turn take good care of customers.
2. Inspiring A Mission Beyond Us (#inspiredemployees)
Beyond welcoming people, the Airbnb culture is driven by an inspiring mission that extends 'beyond us.' In a world that is filled with hostile conflicts, fundamentalists, two-faced politicians and disregard for nature, many young people are interested in contributing to a good cause and making things right. For millennials, in particular, money is not the end goal. Companies that help connect people with their best motivations, providing sense, meaning and purpose, have an advantage. According to the former Stanford Business School professor Jim Collins, in his #1 bestseller Good To Great, defining your 'hedgehog' is vital for success. Long-term goals and core purposes 'beyond us' have been crucial to the success of visionary companies like Hewlett-Packard, McKinsey, and Nike (Collins 2001; Collins & Porras 1998).
Airbnb has succeeded in developing such a mission. As the company puts it, its mission is "to create a more connected world". What they want to express through this mission, is something that Airbnb is best at in the world. To be more precise, in contrast to anonymous accommodations, where guests are disconnected from locals, Airbnb allows people to connect. As CEO Brian Chesky describes it,
«The number one reason people choose to travel on Airbnb is they want to live like a local. They don't want to be tourists stuck in long lines, fighting with the crowds to see the same thing as everyone else. Our hosts offer more than just generic hospitality - they welcome travelers from around the world into their communities. Today is the start of an exciting journey to help people not just go somewhere, but truly live there.»
According to Airbnb, its mission also promotes a culture of sharing. Airbnb perceives itself as a pioneer of the sharing economy. Despite the fact that the mission has faced opposition, and that Airbnb has, among other things, been criticized for helping private owners earn excessive money and avoid taxes, the struggles have not necessarily weakened their purpose. As long as Airbnb remains adaptive to these challenges, it will be able to convince stakeholders of its noble purposes.
Equally important, Airbnb has succeeded in linking its vision and mission to its strategy and culture. It is evident that the company's following core values are aligned with its mission: to be a host, every frame matters, champion the mission, and be a 'cereal' entrepreneur. Yet, the mission is more than nice thoughts from the top management. Every single employee needs to be inspired. Airbnb knows this and is working intentionally to implement its mission in day-to-day work culture. The way this mission is disseminated throughout the company, however, is not through endless slogans on wall posters, t-shirts, cups and e-mails. Rather, it has become part of everyday behavior. As Mark Levy told Jack Hershman, staff writer for Hot Topics: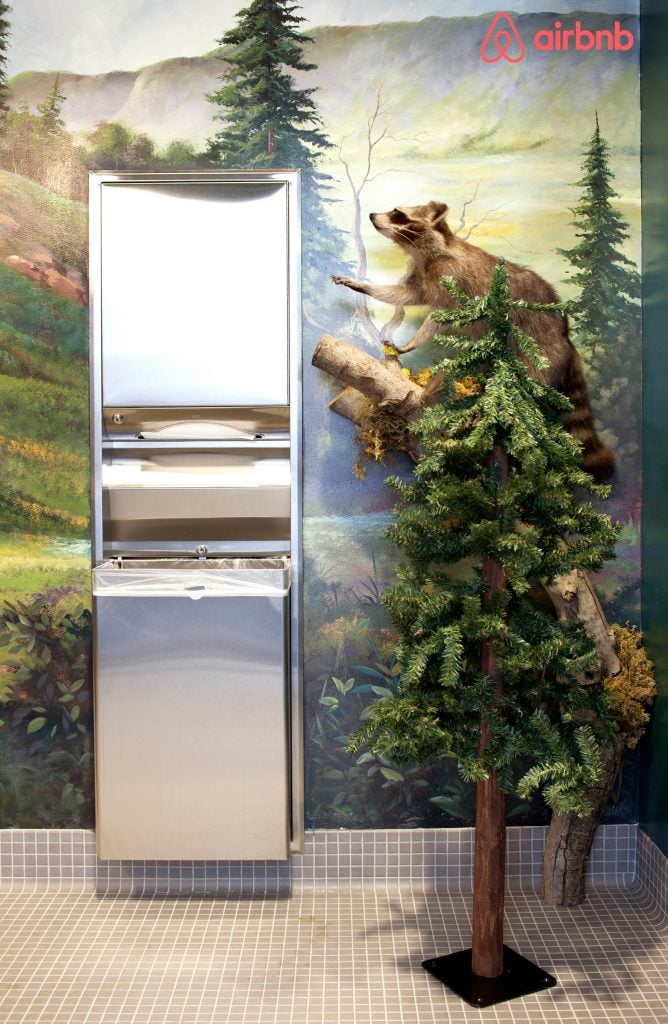 «You don't see the mission and values on the wall. Instead, you feel it when you walk through the door and you see it in the way that people behave with one another, and with anyone who comes into contact with us. Being a host is one of our most important values, and it is how we behave both with one another, and everyone else.»
Starting from recruiting, Airbnb's mission and values are built into the culture. When recruiting, the company aims to ensure that new recruits fit with the values and can identify with the Airbnb mission. Core values play a central part in the recruitment interviews. The candidates Airbnb is looking for are the ones that are already living out Airbnb's values in their ordinary lives. As Mark Levy points out to Bronwen Clune:
«The minute people start talking about job titles or are more interested in the equity over changing the world through connecting people via local and authentic travel experiences, we know that they are probably barking up the wrong tree. We're very true to our core values in the hiring process.»
The company's mission is also at the heart of its volunteering program. At Airbnb, citizenship is not disconnected from business. Rather, serving the community is seen as an extension of the company's mission. The volunteer program revolves around 'giving back' to the community. Through this program, employees have the opportunity to volunteer 4 hours per month by spending time in neighborhoods with hosts and even guests. For instance, they can partner with non-profit organizations to help community residents out of homelessness.
3. Building Trust & Autonomy (#involvedemployees)
The third key element and building block in the success of Airbnb's culture is building a culture of trust and autonomy. In a trust culture, employees feel that the employer believes in them, gives them freedom and entrusts them with creating real value. In his thought-provoking book Drive, Daniel H. Pink points out that in the long term, human beings are driven more by autonomy and mastery than by external rewards:
«The problem is that most businesses haven't caught up to this new understanding of what motivates us. […] They continue to pursue practices such as short-term incentive plans and pay-for-performance schemes in the face of mounting evidence that such measures usually don't work and often do harm»
(Pink 2009, p. 9)
Airbnb believes in its people and delegates much responsibility to the individual. For instance, engineers are expected to be self-driven and take initiative: "At the core, our philosophy is this: engineers own their own impact. Each engineer is individually responsible for creating as much value for our users and for the company as possible." This trust in the individual was demonstrated at the One Airbnb conference. On the second day of the conference, the employees provided feedback on what Airbnb does well and what it could improve on. Listening to the employees is a central part of the Airbnb culture and is a great way of communicating trust.
Finally, Airbnb builds trust and autonomy through teams. Teamwork is widely used throughout the company. Typically, employees work in tight working groups of 10 people or less.
Connecting The Lines
How did Airbnb become the world's best place to work? The success of the Airbnb culture was built upon three cornerstones: fostering a welcoming culture, inspiring a mission beyond us and building trust and autonomy. Considering the lessons from Airbnb, some might argue that these concepts are not something new. For decades, companies have implemented initiatives to welcome, inspire and empower employees. However, Airbnb has not simply launched some initiatives. Rather, it shifted the entire perspective. The new perspective is characterized by seeing HR's mission from the employee viewpoint as well as applying a more comprehensive understanding of people's motivations.
Questions that HR managers should ask are the following: What current methods do we use to drive employee performance? How successful have we been so far? How would our workplace look if we implemented aspects from the Airbnb approach? Changing does not mean throwing away everything that has worked well so far. Neither am I advocating a laissez-faire culture. However, the successful Airbnb case calls for a rethinking of current methods and approaches.
Want to read more articles like this? Join the Livingroom Newsletter
ABOUT THE AUTHOR
Roar V. Bovim is an experienced speaker and consultant to several large and medium-sized companies. He holds a Ph.D. in organizational identity and social psychology and is a lecturer at the Copenhagen Business School.
Roar founded Livingroom Analytics, the new, groundbreaking platform for measuring and improving employee experience. Every company faces the challenge of building a workplace in which people feel engaged and perform well. Livingroom helps managers identify people challenges as well as deliver the right tailored actions for improvement of organizational results.